Product Detail
Product Tags
China Eco Hopper Supplier
This ecological hopper/dust-proof hopper/port hopper/ mobile tire hopper/eco hopper is mainly used for the unloading and loading of bulk cargoes. If your port pursues 95% dust removal effect,then the filter bag  type hopper will be your best choice.  A bag filter is a dry dust filter. It is suitable for capturing fine, dry, non-fibrous dust. The filter bag is made of woven filter cloth or non-woven felt, and the dust-containing gas is filtered by the filtering effect of the fiber fabric. The action settles down and falls into the ash hopper. When the gas containing finer dust passes through the filter material, the dust is blocked and the gas is purified.
Main structure of port hopper :

1 The port hopper is composed of a grid plate, a palatal opening and closing door, a gantry structure, a mobile wheel group, a high-pressure water pump station and a water pipe spray system, a ladder platform, an electrical control system and a remote control system.
2 The hopper meets the requirements of loading and unloading operations for continuous production of three shifts a day at the port.
3 The hopper has sufficient strength and rigidity, the effective volume of the funnel is about 50 cubic meters, and the size of the opening above the eco hopper is designed according to the capacity of the grab bucket.
4 There is a grid plate and a vibrator at the entrance of the funnel to prevent large pieces of material from entering the hopper and causing material blockage.
5 Remote control in the operating room, the operating range of the wireless remote control is ≥ 50m
6 Considering the large dead weight of the hopper, a tractor towing scheme is adopted. The traction mechanism is simple and reasonable, with high strength, safety and reliability, convenient turning and simple operation.
Advantages for GBM Eco-hopper:
1. Eco hoppers is eco-friendly solution for unloading dust cargo
2. Multiple discharge options: to conveyor, to truck, via telescopic chute, through ancillary Material Feeder
3.Multiple travel options: rail, static or pneumatic tyre mounted and powered and towable travel
4. The port hoppers working efficiency could custom by your need and reach 5000T/H.
Technical model for hopper
No.
Model
Volume(m3)
Loading Weight (t)
Hopper weight(t)
Max. Total Weight(t)
Unloading Capacity(t/h)
Note
001
HP40
40
60
16
80
600
1 outlet eco Hopper
002
HP50
50
80
19
100
800
003
HP60
60
100
21
125
1000
004
HP70
70
120
25
145
1200
005
HP80
80
140
27
170
1600
006
HP100
100
160
30
190
2000
007
HP60-2
60
200
33
235
2500
008
HP70-2
70
120
27
150
2500
2 outlets eco Hopper
009
HP80-2
80
140
30
170
2000
010
HP100-2
100
160
33
195
3200
RFQ for hoppers:
Q1. Can the Hopper be customized?
Yes, every customer's working condition is different, all of our products can be customized depend on customers' requirements. Please see the below hopper type we could produce for you:
Bag-filter Dust-proof hopper

Cyclone Dust-control hopper

Tyre mobile Eco hopper

Fixed stationary Eco hopper

Non-dust proof normal hopper

Double discharge feed hopper

Spray dust removal hopper

Rail type port hopper
Q2. Do you have installation team for install dust-proof hopper?
Yes, GBM has own installation teams in China and overseas,we can provide service even during covid-19.Also,any kind of lifting tools  will available for your instruction.
Q3:What is information do you need for provide drawing?
1.What kind of Bulk Hopper you need, Simple one or Dust proof type?
2. What's the material you usually handle and  material density?
3. The hopper capacity do you need?How about the grab capacity, the grab open size?
4. Do you need fixed hopper or mobile hopper Does unloading hopper move by itself or by other machine?
5. Will the eco hopper unloading into truck or conveyor belt,?
6. What's the dust removal efficiency(%) and the handling efficiency(__T/__h) you want?
Hopper cases oversea 
2 SET 50CBM ECO hopper for unloading cement and cliner in Gambia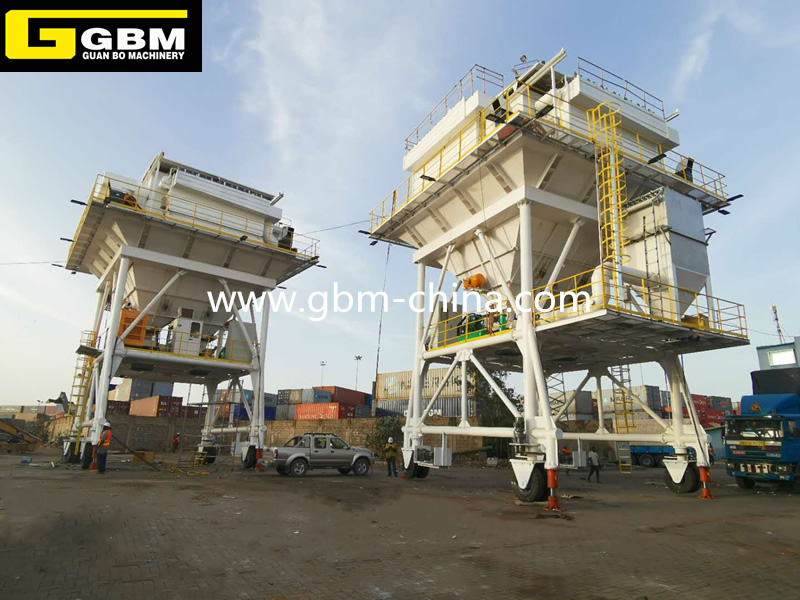 ---
Previous:
Truck discharge ship loader
---