Rail-mounted Type Eco hopper
Product Detail
Product Tags
China Eco Hopper Supplier
The port mobile hopper series from 20CBM-100CBM which is divided into two layers, because the lower hopper of the upper hopper is relatively large, the hopper is not easy to raise dust, the suction port of the dust collector is arranged in the middle of the two layers, and the upper and lower material ports are sealed and dusted with a pulse bag filter.
The Hopper designed by our company is mainly used for loading and unloading coal slag, cement powder and iron powder, and can be designed according to the requirements of customers. The dedusting device, electro-hydraulic door device and vibration feeding device can be installed on the funnel, which greatly improves the Handling efficiency. This equipment includes bagging machine, main support steel frame, gravity feed funnel, power distribution box, discharge chute, bag holder, pneumatic system and some optional devices such as dust collector, empty Presses, etc. Among them, the DCS bagging machine consists of feeders, weights, etc. This device is used for weighing and bagging various small particle materials such as grain, dried cassava, fertilizer, PVC powder, small pellet feed, etc. Small particles of ore, bauxite and so on.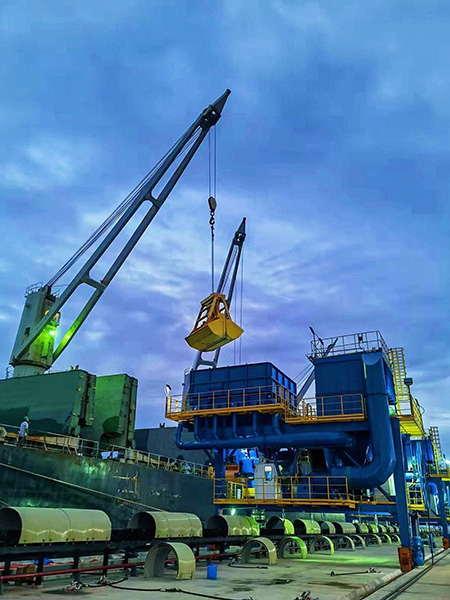 Main Features And Advantages for dust control hopper:

1. Eco hoppers is eco-friendly solution for unloading dust cargo
2. Multiple discharge options: to conveyor, to truck, via telescopic chute, through ancillary Material Feeder
3.Multiple travel options: rail, static or pneumatic tyre mounted and powered and towable travel
4. The port hoppers working efficiency could custom by your need and reach 5000T/H.
RFQ for hoppers:
Q1. Can the Hopper be customized?
Yes, every customer's working condition is different, all of our products can be customized depend on customers' requirements. Please see the below hopper type we could produce for you:
Bag-filter Dust-proof hopper

Cyclone Dust-control hopper

Tyre mobile Eco hopper

Fixed stationary Eco hopper

Non-dust proof normal hopper

Double discharge feed hopper

Spray dust removal hopper

Rail type port hopper
Q2. Do you have installation team for install dust-proof hopper?
Yes, GBM has own installation teams in China and overseas,we can provide service even during covid-19.Also,any kind of lifting tools  will available for your instruction.
Q3:What is information do you need for provide drawing?
1.What kind of Bulk Hopper you need, Simple one or Dust proof type?
2. What's the material you usually handle and  material density?
3. The hopper capacity do you need?How about the grab capacity, the grab open size?
4. Do you need fixed hopper or mobile hopper Does unloading hopper move by itself or by other machine?
5. Will the eco hopper unloading into truck or conveyor belt,?
6. What's the dust removal efficiency(%) and the handling efficiency(__T/__h) you want?
Production Progress of hoppers:

---
Previous:
Movable Eco-Hopper
Next:
Ecological Hopper
---