Electric hydraulic telescopic spreader
Product Detail
Product Tags
OUR OFFERING:
Alongside a full range of spreaders for cranes and mobile equipment, GBM also offers an extensive portfolio of industrial services solutions to further increase spreader availability.
We can provide a spreader solution for every requirement and type of terminal which are widely used in automa.
– ship-to-shore (STS) spreaders,
– yard crane spreaders
– mobile harbour crane(MHC) spreaders – are available as single- or
twin-lift versions.
Until today,we have delivered spreaders to more than 80 terminals in over 30 countries.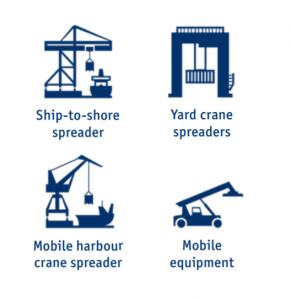 Description:
The spreader is a single lift mobile harbour crane.Spreader with high lifting capacity.It extends from 20 foot to 45 foot with an
intermediate stop at 40 foot. Six powerful hydraulically operated flipper.Arms are mounted at the ends and sides of the spreader to provide efficient gathering on to a container even when the spreader is rotating.
All components can be easily assembled, adjusted, removed and are
accessible for inspection and maintenance. Structures are proof-tested at the factory with full-load.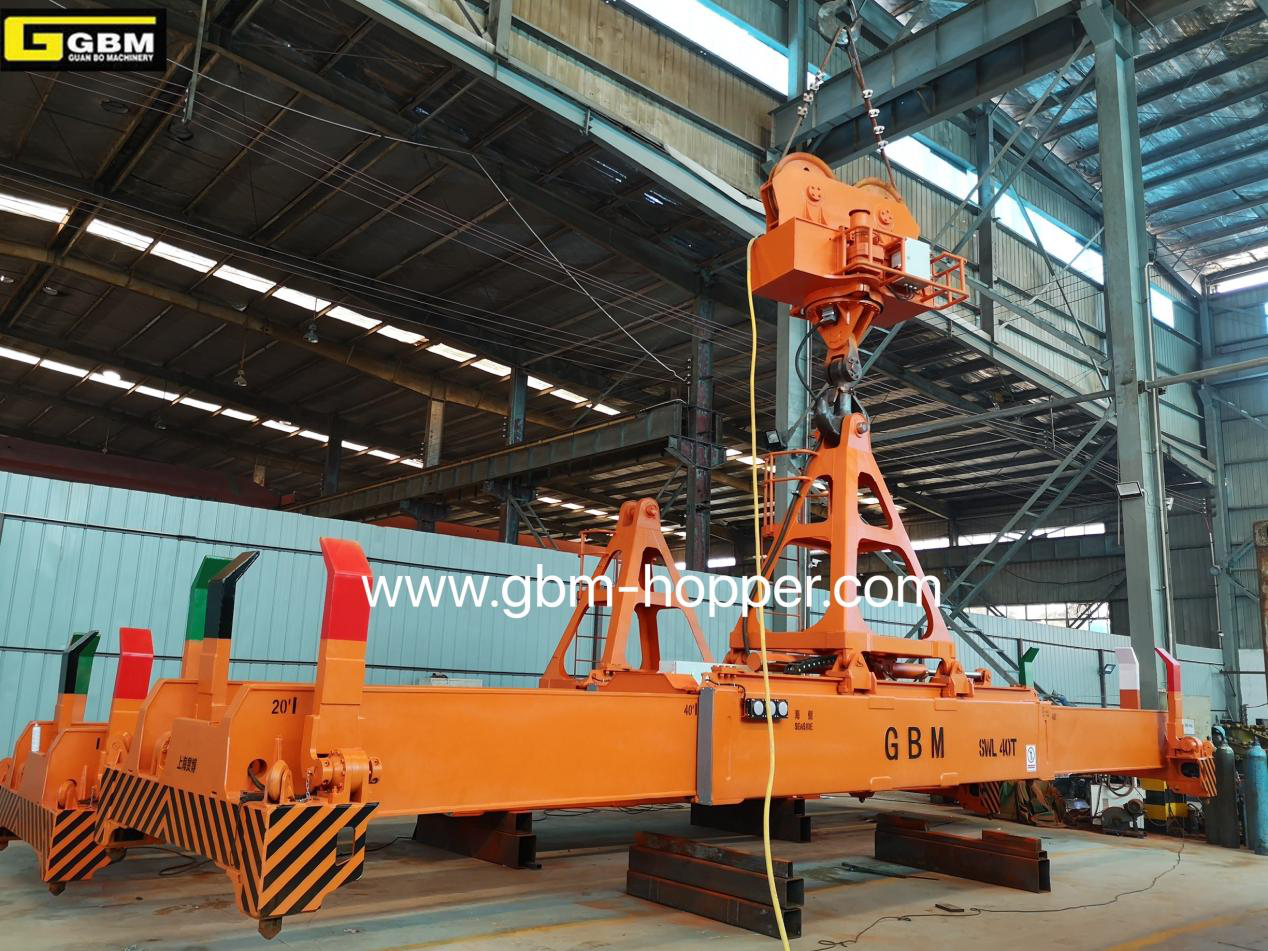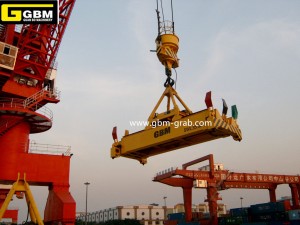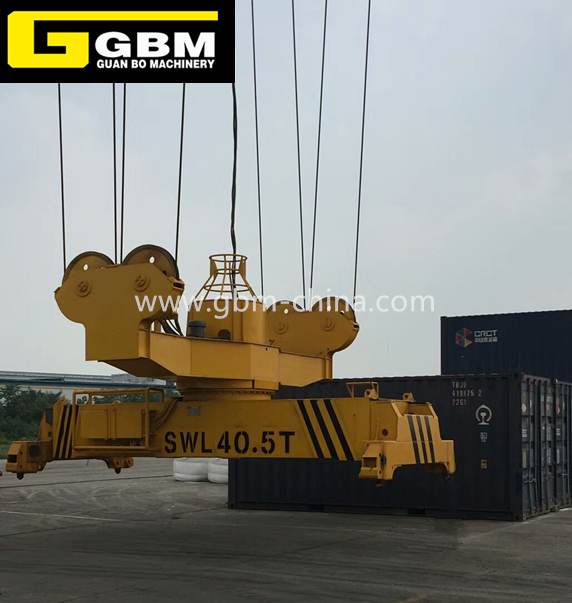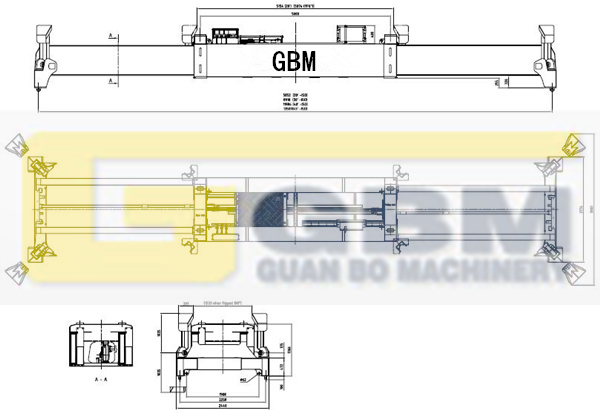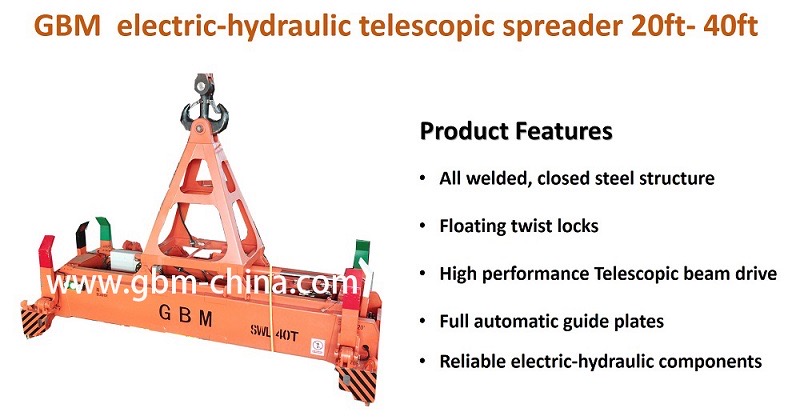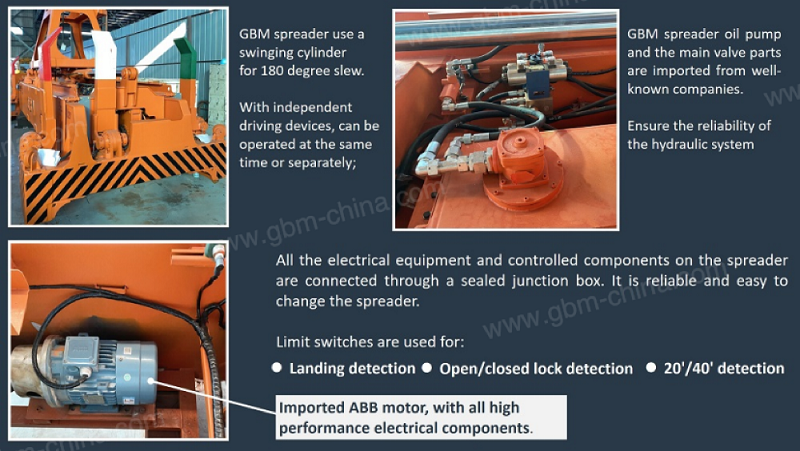 Suitable for operating ISO standard 20 feet 40feet container
Suitable for operating ISO standard 20fet 4feet container
AC 220V( Optional)
Rated lifting capacity
41T
 total power
≤8kw
Permissible load eccentricity
±10%
 Protection class
IP 55
Tension lug weight
10t*4
System working pressure
100 bar
Weight (spreader part)
14.5T
 Ambient temperature
-20℃~+45℃
Retractable (20 feet to 40feet)
~30s
Twist lock mode
ISO Floating Revolver, Cylinder Drive
Revolving (90°)
~1s
 Telescopic Drive
Hydraulic Motor Drive Sprocket/Roller Chain Drive
Guide Plate (180°)
5~7s
Guide Plate Device
Detachable Guide Plate
Self-aligning (±1200mm
~25s
 Rotary Drive
Hydraulic Motor Drive
Rotation(±220°)
~35s
Application
Ship unloader, Track Crane, Tire Crane, Portal Crane, Boom Crane
---
Previous:
Crawler hydraulic material handler
---